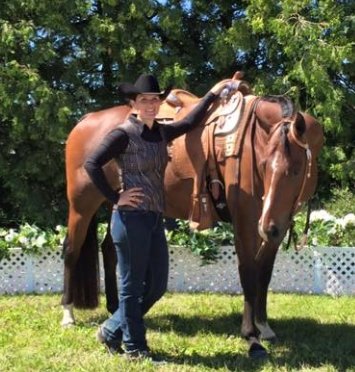 Jamie Gardy
Owner, Head Trainer & Coach at Gardy Training Centre.
Jamie has over 15 years of experience in the industry, starting out her riding and showing career from a very young age!
Jamie started out showing within the Quarter Horse circuit and excelled in her youth show career winning multiple year-end awards in both Area 3 and Ontario, and placing 7th at the All American Quarter Horse Congress in Novice Youth Hunt Seat Equitation.
After finishing her youth show career, Jamie attended Georgian College and completed her certification for Veterinary Technician, all while apprenticing under Kelly at Kelly Simpson Training Centre. Jamie worked alongside Kelly as her assistant for several years and progressed to a Head Coach position; gaining a wealth of knowledge and experience in multiple disciplines. In 2017, Kelly announced her retirement, and at this time Jamie, along with her husband Chris, took this as an opportunity to open their very own training centre.
Fast forward to the present, where Jamie and Chris own and operate Gardy Training Centre, located on beautiful private acreage in Severn, ON. Home to over twenty horses of varying breeds and schooling, GTC prides itself on top quality care for their equines and professional training. The fun and thorough riding lessons provided by Jamie and her team cater to the complete beginner to advanced riders. It has been an incredible journey thus far, and Jamie is excited to continually share her knowledge of horses and riding through teaching young minds and helping others achieve their goals.
~~~~~~~~~~~~~~~~~~~~~~~~~

Drew Cowie
Barn Manager & Assistant Instructor
Drew has had a passion for horses for as long as she can remember. She has been riding for over 15 years and purchased her first horse when she was 17. Drew has been coached from Jamie from a young age, learning the basics of foundation riding to starting and training her own personal horses. Working around horse farms from a young age, she learned much about quality horse care and currently oversees GTC as the Barn Manager.
Becoming a riding instructor has always been a dream of Drews, and that dream became a reality when she began her Assistant Coaching position here at Gardy Training Centre! Drew loves coaching and especially enjoys teaching the kids' lessons and seeing all her riders improve and enjoy their riding experience.
Outside of the barn, Drew is also Mom to a 1-year-old girl named Paisley. Even at only a year old, Paisley already shares Drew's love of riding and even has her own horse Storm. Drew currently has two horses named Zeppelin and Cally, who enjoy snacking on decadent treats such as Pop Tarts and Nature Valley Bars!
~~~~~~~~~~~~~~~~~~~~~~~~~


Max McKenzie
Assistant Instructor
Max began riding at 7 years old and got her first pony at 11. She showed in the Trillium hunter/jumper circuit for several years before moving on to explore what else the horse world had to offer. Max has a done a bit of everything over the years – from working as a trail guide, to riding on a drill team, and even learning vaulting on horseback! Outside of the barn, Max holds a Bachelor's degree in Marine Biology, with a minor in Neuroscience from the University of Guelph. Before Gardy Training Centre, Max also worked as a camp counsellor and as a zoo educator, teaching kids and adults alike about animals and how to interact with them safely. In 2021, she began her Master's in Counselling Psychology, with plans to become a psychotherapist in the future and run her own equine-assisted therapy practice! Max is excited to start coaching with Gardy Training Centre and combine her passion for horses with her love of mentoring others.
~~~~~~~~~~~~~~~~~~~~~~~~~
Lauretta Reid
Camp Counsellor & Auxiliary Office Administrator
Lauretta has had a passion for horses all her life and has always dreamed of a career and life with horses. She got on a horse for the first time when she was just 5 years old as part of the STRIDE Program. She rode a Paint horse named Cookie.
She has been riding at Gardy Training Centre since their grand opening in 2018. Her riding experiences here at GTC marked the first time she had been able to ride and interact with horses on her own and she loves every minute of it!
Lauretta was born with a disability and uses a walker or wheelchair for mobility. Riding has always been her freedom and the only place she can escape her disability. Being on a horse, she is not limited by the mobility of her own body. Her horse becomes her legs and gets her anywhere she's ever dreamed of going.
Lauretta has created a special bond with all of the familiar horse faces in and around the barn, but there is one horse in particular that stole her heart! Cody is just one of the famous lesson horses here at Gardy Training Centre; Lauretta has developed a close bond with him and couldn't be happier to be able to ride this great gelding! In May 2020, Lauretta was presented with the amazing opportunity to part board Cody! This has been such a dream come true and has given her so much more independence than she's ever experienced.
Since starting at Gardy Training Centre, she has also been involved in running the barn's summer camps. It has been a great learning experience and she loves getting to see the kids get excited about riding and being around the horses. She finds it so rewarding to see how much they can improve, even in a week of camp!
Outside of her barn time, after high school Lauretta attended Georgian College and completed the Business Marketing Program. She enjoyed the program, but never lost her passion for horses and riding. This passion, and some encouragement from some very supportive people, got her started on a journey taking courses online through University of Guelph and she is currently working towards a Diploma in Equine Studies.
Lauretta feels so very blessed to be in an Administration position here at Gardy Training Centre and to be able to use the skills she's learned in school, while still being able to pursue the passion for horses she's always had.
~~~~~~~~~~~~~~~~~~~~~~~~~